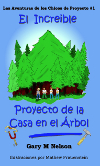 The second Spanish translation series of the Project Kids Adventures books is under way, with El Increible Proyecto de la Casa en el Árbol (The Ultimate Tree House Project) now available for Spain.
There are two Spanish translations in progress – Latin American and Spain editions. This is the first of the series being translated by PMI-Madrid volunteers with support of the chapter.
Many thanks to Santiago Soria and his wife Maria Gimenez for their translation of this book!