The Ultimate Tree House Project
When a book about a project becomes a project itself!
Inspired by Gary Nelson´s book "The Ultimate Tree House Project", a pilot project named "Open your Mind – reading the Project Kids Adventures Series #1", was carried out by a group of students – aged 11 to 15 – from the João Villaret School, in Loures, Portugal, one of the many school projects supported this year by the social responsibility program  "PMI Portugal nas Escolas" (PMI Portugal in Schools).
The idea, suggested to the school by PMI volunteer Program Manager and PMIEF Liaison Isabelina Jorge, was to launch a pilot project that would complement the volunteer effort of translating Gary Nelson´s books into Portuguese, by promoting the animated reading as a project in the program partner schools.
The students have successfully followed the PMIef "Projects from the future" Kit to perform project management, applying the methodology with talent and passion. We have observed a very positive impact on the 4Cs – creativity, critical thinking, collaboration and communication.
The "Open your Mind" 3-month Project focused on the book "The Ultimate Tree House Project", making it the core subject of the students' work. In this adventure book, children are taught the fundamentals of Project Management in order to fulfil the goal they aim to accomplish – building a tree house. The project team completed several tasks, such as reading the English and the Portuguese versions of the book ( both available through the PMIEF site), discussing each chapter and making summaries in both languages. They also decided to make boards of the different chapters using a comic book style thus showcasing their work as a guided tour to the story.
The final presentation, which took place June 7th 2016, brought together students, teachers and parents around a rightly proud Project team, led by Project Leader Maria José Garcia, the school's Librarian, and Cristina Barradas, the "PMI Portugal nas Escolas" Tutor.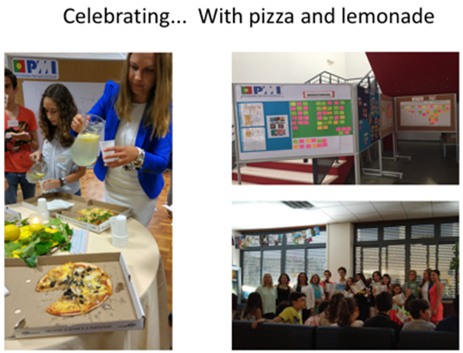 Following an open Quiz on "who is who", each team member role played a presentation of their chosen character for the other participating students to guess. To wrap up, everyone helped themselves to a glass of lemonade and a slice of pizza – but you will have to read the book to understand why!
Isabelina Jorge, PMP
PMI Portugal nas escolas Program Manager, PMIEF Liaison
isabelina.jorge@pmi-portugal.org
---
If your PMI Chapter is interested in translating any of the Project Kids Adventures series books, please contact the author.