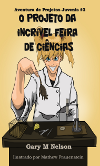 The third translated book in the Project Kids Adventures series, "O Projeto da Incrível Feira de Ciências" (The Amazing Science Fair Project) is now available in paperback and eBook formats!
Well done and thank you to the volunteer translation team led by Iris Pinhão, PMP, Fátima Rocha, PMP and Isabelina Jorge, PMP from the PMI Portugal Chapter.
You can read more about the book (in Portuguese) here.