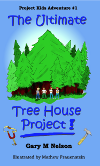 by Nancy Lagunowitsch | As an experienced program director, I am used to handling complex projects, making presentations to senior executives, dealing with objections and all sorts of activities we project managers do on a regular basis.  However, when my boss asked me to explain project management to a group of 11 year old Singaporean girls, who attend school with my boss's children – now that is a bit more of an unusual situation for me.  What to do, what to do???
Of course I said yes.  Was there really an option? I think that turning down the request would have been a career limiting move.
I must admit, I was a bit nervous.  Firstly, I was new to the company.  Secondly, I don't have kids and therefore I felt totally unequipped to speak to children on professional topics.  To be fair, I feel unequipped to talk to kids on most topics at the best of times.  I am just not around them often enough to understand how they think or what they are interested in.
Once my panic subsided, I began to do a bit of research.  How do you explain project management as a profession to kids?  As luck would have it, I came across Gary Nelson's website, and lo and behold, it contained an excerpt of his book "The Ultimate Tree House Project", using an 11 year old girl as the subject.  I read the excerpt with interest.
Honestly speaking, my first attempts at the presentation had been rather dry.  I started out much like the father in Gary's book did.  I used the language I was used to, and "real world examples" of projects I was managing.  In hindsight, I believe this would have been sleep inducing for the kids.  Although I love what I do, it really is "work stuff" as  Amanda would put it.
I gave in to better judgement, and used Gary's formula.  I based my presentation around simplified language concepts, used real world examples I thought kids would relate to, and used cartoon embellishments to add interest to the actual presentation.
The presentation drew upon Gary's  "Idea, Plan, Do, Finish Up" concept that he used in "The Ultimate Tree House Project".  I used a couple of examples based on this that I hoped Singaporean kids would relate to.  The first was writing a book report, and the second was cooking a special meal (food is HUGE in Singapore).  I got them to think of steps that would fit into his simplified construct, and write them on the board.  I think it was a real success.  The kids were engaged, and they asked surprisingly intelligent questions.   My boss was most appreciative, and it gave the kids something they could use – turns out they had to write a report on their experience, so this really gave them a head start.
Thanks Gary.  Your book was a life saver!
Nancy Lagunowitsch is the Global Projects Director, Orange Business Services, Singapore
Prince2 Practitioner, MSP, AIM Change Management, Six Sigma Black Belt