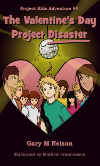 The Valentine's Day Project Disaster is now available! Book 4 in the Project Kids Adventures series (ages 9-12) finds the kids facing their most difficult challenge yet. Throw in a disgruntled bully, a saboteur, a disenchanted school population and suddenly the project kids seem faced with an impossible task – delivering what they thought would be a simple little project to organize a school dance.
Where can I get the book?
Paperback | Kindle eBook | Smashwords
Enjoy the book!
Gary