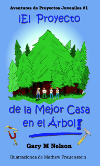 What exciting times for the Project Kids! With the recent publication of  Project Kids Adventure #1 – The Ultimate Tree House Project in Portuguese (O Projeto da Super Casa na Árvore) hot off the press,  we are very excited to announce that The Ultimate Tree House Project is now being translated into Spanish by Ángel Barrero.
Ángel Águeda Barrero (Madrid, Spain) co-translated the project management books Niños Ágiles (Agile for Kids), Eduscrum (Spanish edition) and Planificación en 140 Tuits (Planning in 140 Tweets), and is passionate about introducing project management concepts to children and schools.
We are looking forward to the Spanish translation being available in 2016! (Draft title pictured)
If you would like to translate the Project Kids Adventures books into other languages, please contact the author directly.